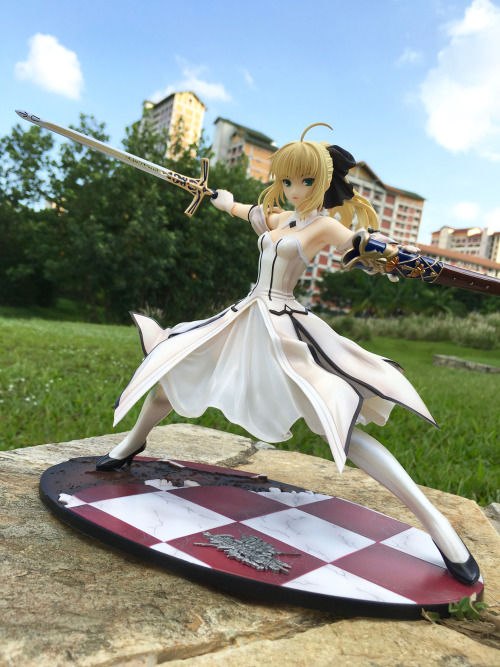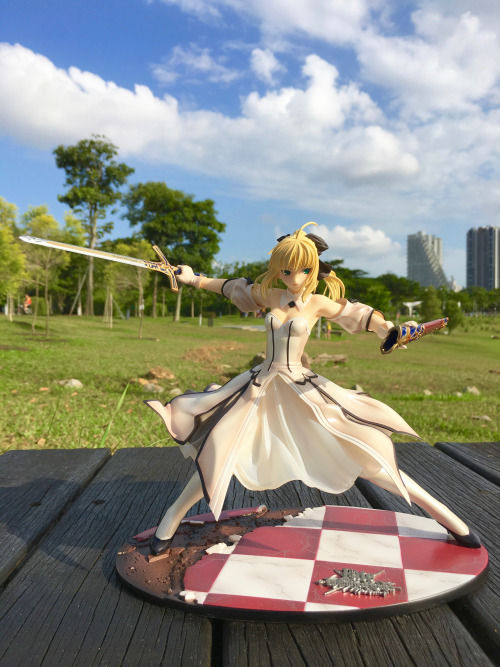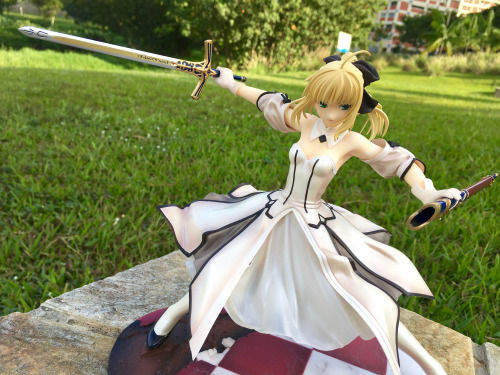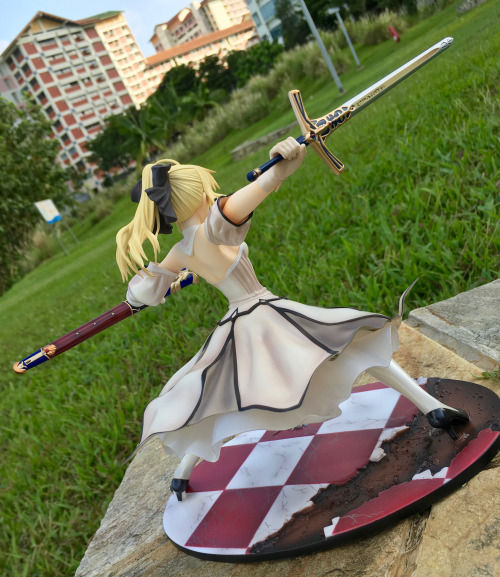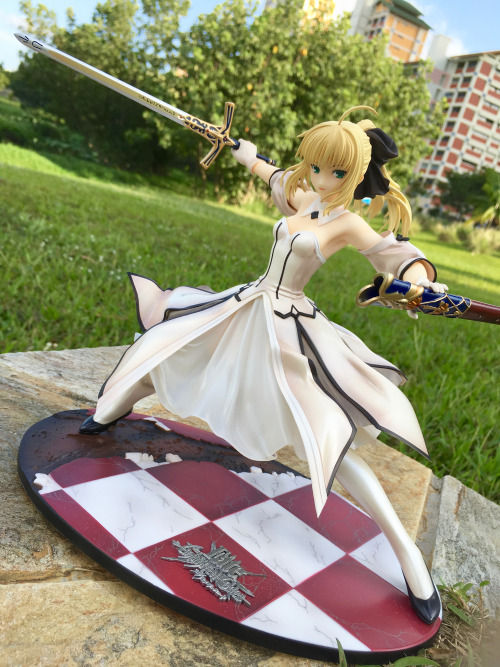 Behold, the 1/7 scale Saber Lily Golden Caliburn by Goodsmile company ~
This is my second figurine so far and she is an absolute beauty. 
I've been quite a fan of Saber ever since watching Fate/Zero and Fate/Stay Night UBW. At a glance, it's hard to disagree that this is one stunning figurine especially with Saber striking that dynamic pose, wielding Caliburn on her right hand and holding onto the scabbard with her left hand. I also thought that the chequered crimson and white oval base with the Fate/Unlimited Codes emblem complemented really well with the pearl-coloured dress of Saber. In addition to the above, what I really love about this figure is the small amount of exposed skin around the arms and upper torso that have been given a nice matte-paint finish which complements nicely with her exquisitely designed gloss-finish bustier dress. The creases around her waist area coupled with the way the bottom of her dress 'floats' up adds to the dynamism of her pose. All in all, I'm glad to welcome Saber Lily golden Caliburn to my collection!
Face: 9/10
Sculpt: 9/10
Pose: 10/10
Overall look: 10/10
(I had to seize the opportunity of having such a clear afternoon sky by driving to my local park for this outdoor photoshoot - not without other park users giving me an odd look as I prone on the ground with my camera)
→ranking
続きはこちらどうぞ(掲載サイトへ)
ブログランキングへ
[Twitterでの反応]

レンタルマギカ呪文詠唱bot
アディリシア「── 我が手にあるソロモンの五芒星を見よ!(Behold the Pentacle of Solomon which I have brought here)」「されば、汝、王の御名において我が命に従うべし!」
2016-02-27 22:22:56
→ranking
続きはこちらどうぞ(掲載サイトへ)
ブログランキングへ